Wide Range of Packaging Hot Melt Adhesive Solutions
Hot Melt Adhesive – Eva-Tec provides a wide range of Packaging Hot Melts to customers in many different sectors of business. As a Hot Melt adhesives supplier and distributor, We manufacture and supply a wide range of Hot Melt Glue for many satisfied customers in Paper & Board Converting, Graphic Arts along with Food & Beverage.
We have the adhesive solution for you, whether you are packaging frozen food, a microwaveable product or simply just packaging something in a carton or case. Below you can find our promote range, please contact us , a member of our Team will be more than happy to discuss your needs.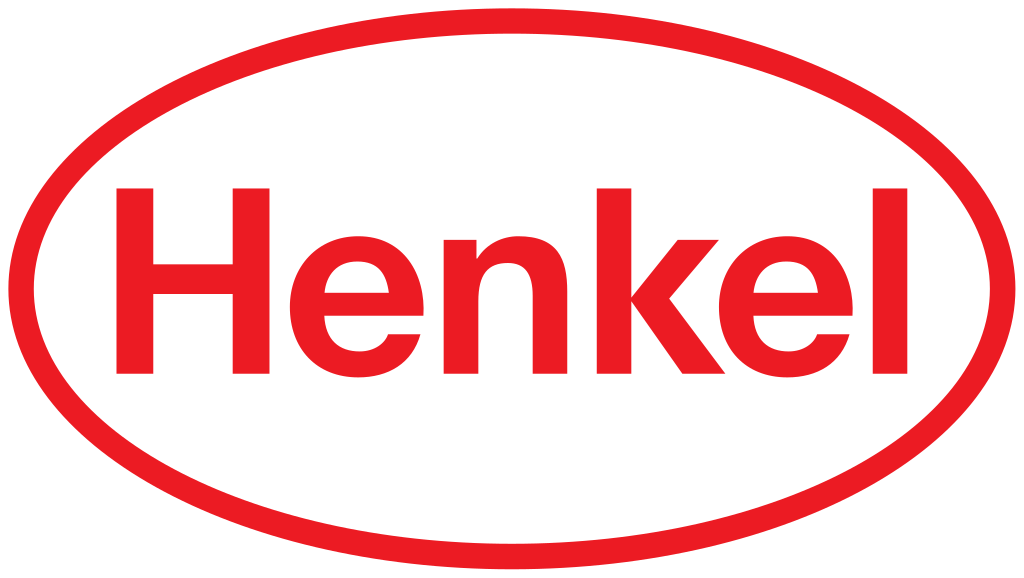 High-Performance Hot Melt Adhesive
Technomelt Supra Range – Packaging Glue for Your Packaging Applications | Hot Melt Adhesive
The Technomelt Supra range from Henkel with its powerful speciality adhesives is the product family that sets benchmarks in the adhesives industry when it comes to meeting your special needs regarding bond strength, mileage, application costs, and safety.
Benefits of using Technomelt Supra Packaging Glue for you:
> High-quality results
> Excellent bond strength
> Less maintenance effort
> Less downtimes – thanks to extremely thermostable adhesive formulations.
> Less Average Consumption – up to 30% lower than conventional hotmelts.
> Outstanding cold flexibility and heat resistance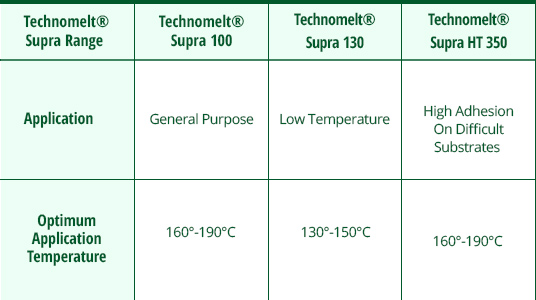 Low Temperature Hotmelt Packaging Glue
Coolmelt Ultra range – Low Temperature adhesives
Henkel´s Coolmelt® Ultra Technology cuts energy usage by up to 40 %, saving on powercosts, lowering carbon emissions and reducing burn risk.The Coolmelt® family of specialty adhesives is the only line of low-temperature products in the adhesive industry capable of meeting your specific requirements for bonding integrity,productivity, utilisation costs and safety.Coolmelt® Ultra 90 Coolmelt® Ultra 120 Coolmelt® Ultra 250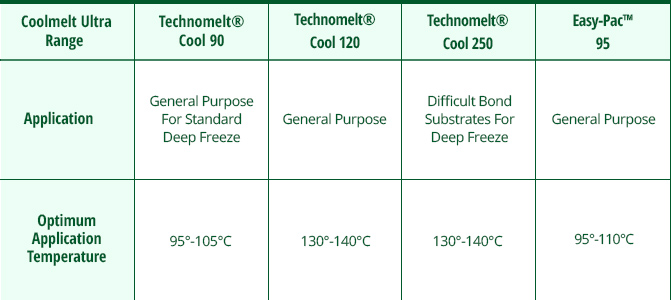 General Purpose EVA-Based Hotmelts